One of the most popular activities in a Colorado Rockies summer is to experience the beauty of the mountains by horseback. Horseback riding is for the whole family from the experienced to the first timer.
Whether you visiting Breckenridge, or towns like Frisco, Copper Mountain, Keystone, Silverthorne , Vail, Beaver Creek, Winter Park, Grand Lake, Aspen, Steamboat or the front range including Denver, Boulder, Golden or Estes park, there is an outfitter close by.
Horseback Riding In Colorado
Horseback riding in the mountains of Colorado is an experience for anyone interested in the outdoors and beautiful scenery. Is experience necessary - No! Riding in the Rockies is good for children to adults, but be careful of the outfitter you go with and the terrain you are going to ride on. There are outfitters that only do trail rides meaning nose to tail, a slow walk, smelling the roses and enjoying the views. Good for children and the inexperienced. Then there are companies that ride horses like they are meant to be ridden, from trotting to full on galloping. Ride some great horses that are friendly and easy to ride and beautiful scenery. Professional guides that will look after you safety and teach you the correct riding techniques. Ride in the winter through the snow or in the trees and meadows in the summer. A memorable mountain experience for all.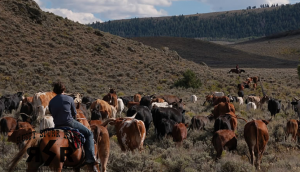 A unique experience is going on a cattle drive with Rusty Spurr Ranch. They offer horseback riding where you actually get the chance to ride from a simple trot to a full on Gallop, plus the opportunity to go on a real cattle drive where the cowboys will teach you how to drive cattle.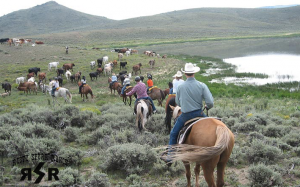 Outfitters that are within close driving distance to the Summit County area include Halfmoon Packing and Outfitters, come enjoy a horseback ride through Aspen groves and evergreens while climbing to timberline. Or check out the American Safari Ranch. Visit this historical homestead working ranch over 100 years old. Located in the middle of South Park on top of the Rockies.
Explore the unspoiled countryside, ride through thousand year old bristlecone pine forest at the Keystone Stables in Keystone. Saddle up for a guided tour through the White River National forest in Keystone. Experience spectacular views of the Continental Divide, Gore and Ten Mile Ranges with Platte Ranch/Double B Riding Stables. This is truly open ranch riding with the most breathtaking views. Perhaps, the most rewarding experience of your vacation! Ride on this 8,000+acre ranch in Summer or Winter. Or check out Gore Range Outfitters. They operate off of two beautiful private ranches in Silverthorne that offer easy access to some of Colorado's most amazing wilderness areas. Cross streams, ride through fields of wildflowers, see amazing wildlife, and savor the most incredible scenery in the west with Triple G Outfitters. Every ride covers beautiful terrain, offering breathtaking views & incredible photo opportunities to view wildlife. From beginner to advanced there is a perfect ride for you. There are also CATTLE ROUND-UPS daily, during summer only.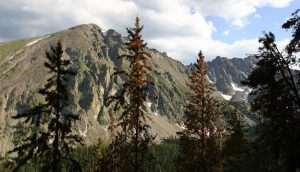 In the Vail area, ride with High Canyon Adventures, they operate on the Bair Ranch, which is in the mountains of Colorado's western slope, in the heart of Glenwood Canyon. High Canyon Adventures is only minutes from Glenwood Springs, Aspen and Vail. Bair Ranch is one of Colorado's oldest family run working livestock ranches. It encompasses over 5500 acres and miles of trails, surrounded by forest, canyons, and the Colorado River.
Going to the Winter park area? Try a Grand Lake ride with one of these outfitters. Enjoy the Rockies from horseback in any season with Sombrero Stables. Or try summer trail rides, breakfast & dinner rides, with the Winding River Resort.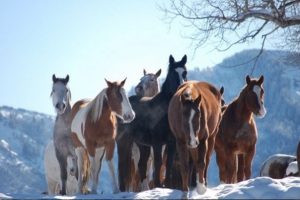 Going to Aspen or Snowmass? Enjoy a horseback ride with Maroon Bells Guide and Outfitter. Friendly and knowledgeable staff provide safe, enjoyable rides. Located at the gateway to the Maroon Bells on the historic T Lazy 7 Ranch. Offering pony rides for little kids, one or two hour rides, 1/2 day, and overnighters to base camp for great family fun. Looking for a full day ride or multiple day wilderness trips? For the more adventurous go riding with Capitol Peak and Aspen Wilderness Outfitters. All trips center on the remote Maroon Bells, Snowmass wilderness areas, with their 14,000 foot peaks, wildflowers, mountain lakes, and breathtaking panoramic views.
Visiting Denver? Go to scenic Estes Park or Boulder and get on a horse with SK Horses. Choice of two top quality horseback riding stables. Ride scenic secluded trails into Rocky Mountain National Park from the National Park Gateway Stables. Or ride into Roosevelt National Forest with a true mountain experience, offering spectacular views, vistas, and overlooks from Cowpoke Corner Corral. Pony rides for little ones at both locations.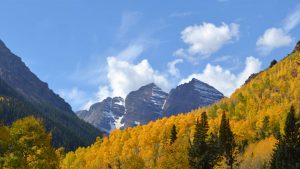 Make this your best summer ever with the friendliest, most professional and experienced outfitters in Colorado! All riding trips are a photographers dream in the Colorado Rockies. Don't forget to put this on your "to do" list while visiting in Colorado.