Arapahoe Basin known locally as A-basin has what every skier and snowboarder wants an extended season. The Basin has one of the longest seasons in North America.
A-basin is not your typical ski resort filled with shops, restaurants and condos. The Basin is a skiers mountain, great terrain for the snowboarder or skier from a few beginner runs to great intermediate trails and for the expert open bowls, to bumps and exploring the trees. A-basin is above tree line so the views are outstanding and the lifts are right at the parking lot known as the beach. In the spring locals call it "beaching at the basin". Tents and grills, it is all about the party!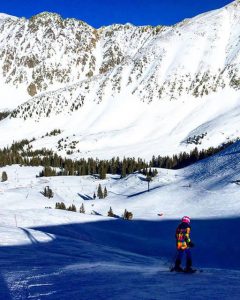 Arapahoe Basin (A-basin, "The Legend") is located in Summit County, Colorado, on the Continental Divide. Montezuma Bowl, offers the skier and snowboarder more steeps, glades, chutes, groomed runs and powder to play in. While you're here, be sure to check out all the events, concerts and picnics that Black Mountain Lodge, 6th Alley Bar and our famous Beach have to offer. The famous Pallavicini lift will take you to some of the state's most challenging runs. Located just 68 miles west of Denver on Hwy 6/Loveland Pass (minutes away from Breckenridge, Keystone, Copper Mountain, Loveland, Vail, Silverthorne and Dillon), A-basin ranks #1 in Mom and Pop ski areas (skiresorts.com) and top 10 in value and scenery (Ski Magazine). Use your Keystone or Breckenridge lift ticket here! This winter, elevate your experience at Arapahoe Basin.
Summit County, Colorado is one of the few places in the spring where you can ski, ride, go horseback riding, get on an Atv, play golf, take a zipline, go fishing, snowshoe, and in late spring even go for a sail or take a boat out in scenic Lake Dillon all within 20 to 30 minutes of each other.
Thank you Chris Brower for the amazing photos! www.chrisbrower.com
There is nothing like playing in Colorado in the springtime.