In the mid 20th century, Fritz Benedict dreamed of creating a Colorado hut system modeled after the European Alps' Haute route. The WWII 10thMountain Division soldier teamed up with an Aspen architect, and created what is today considered one of the premier backcountry hut systems in the world.
The 14 huts are linked to 300-plus miles of skiable routes, and are connected to 17 other huts in the area between Vail, Leadville and Aspen.
Ready for turns in pristine powder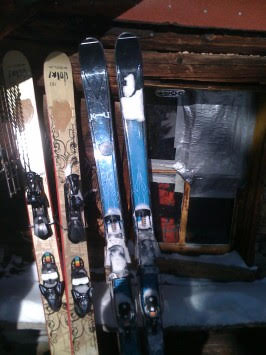 Skiing or snowshoeing Colorado's backcountry hut system is ranked as one of National Geographic's top 100 adventures, and is an idyllic winter playground for the backcountry enthusiast. The 10thMountain division hut system is the most extensive in North America. The term "hut" is misleading, as the polished log cabins are furnished with wood stoves, private bedrooms, group bunks and propane cooking stoves, which makes for a comfortable stay in Colorado's rugged backcountry. A few of the huts even boast saunas.
Beginner, intermediate and advanced skiers alike can enjoy the hut system, as the spectrum of accessibility for most huts ranges between 2 and 11 miles, or more with hut link-ups. Vance's Cabin is a short distance from the trailhead and can be accessed easily, which makes it the perfect destination for those seeking an easygoing outing into the backcountry . The Eisman hut, located 7 miles north of Vail in Colorado's Gore range, is most popular among backcountry skiers seeking adventure in pristine powder. The area bordering the cabin offers a wide variety of treed lines and open bowls. The 10thMountain Division hut is located near Leadville, and access trails are linked to the Colorado and Continental Divide Trails. Skiers and snowboarders can make fresh turns in the open bowls surrounding the cabin, while Homestake Peak (13,209 ft) beckons ski mountaineers. Sweeping views of the Continental Divide can also be enjoyed from the wraparound window bench adjacent to the hut's wood stove.
Window bench by the wood stove. Just add hot cocoa!
Colorado's hut system is truly a state treasure, and is a once in a lifetime experienced that should not be missed. Apex Mountain School offers professionally guided trips to a variety of huts, and can tailor a trip to your goals and experience level. Everyone can enjoy the peace and grandeur of the Colorado Rockies, whether you're 7 or 75!