World class whitewater rafting, spectacular views of the Collegiate Peaks, and over 300 days of sunshine a year it's no wonder Buena Vista attracts so many visitors every summer.
Located a little over an hour from Breckenridge and just 2 hours from Denver, Buena Vista is the perfect Colorado day trip where you can spend the day whitewater rafting on the Arkansas River, and nights camping under the stars. KODI Rafting has a deep love for Buena Vista, as co-owner Campy grew up paddling the Arkansas River with his father and grandfather, affectionately known by locals as "Grampy Campy." Check out our top reasons to visit Buena Vista, and find out why KODI Rafting guests keep coming back year after year.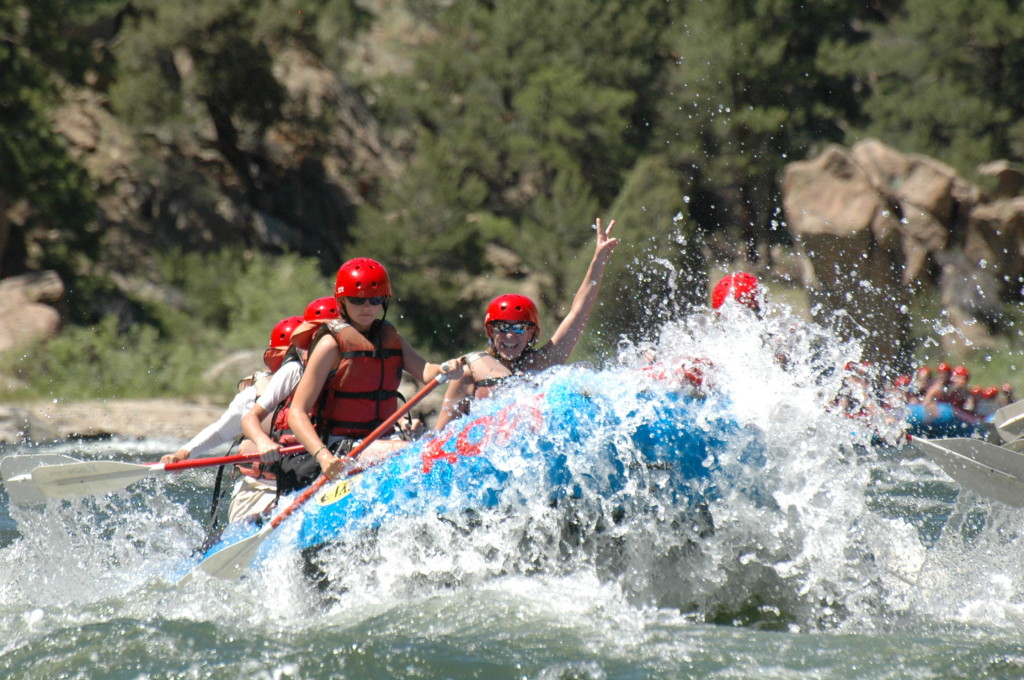 World Class Rafting
The Arkansas River begins in the Sawatch Mountain Range, near Leadville, and flows south through Buena Vista, offering mile after mile of world class whitewater rafting. Whether you are a novice or experienced rafter, the Arkansas River has an adventure for everyone. KODI Rafting rafts two different sections of the Arkansas River: Browns Canyon National Monument and the Numbers. With an amazing combination of great Class III rapids and fantastic scenery, Browns Canyon National Monument is the perfect rafting trip for families, groups and friends looking to spend a beautiful summer day on the river. The Numbers is a step up from Browns Canyon National Monument. With more gradient, this river trip will keep you moving as you navigate the Class III-IV rapids in the 7 mile stretch.
Weather
Buena Vista is at an elevation of 7,965 feet, and sits in a valley known as the "Banana Belt" with more than 300 days of sunshine a year. The town sees an average daily high temperature between 74 and 81 degrees in June and July – and is usually warmer than Summit County and often cooler than Denver and Boulder. Buena Vista weather is perfect for playing outside – just don't forget the sunscreen!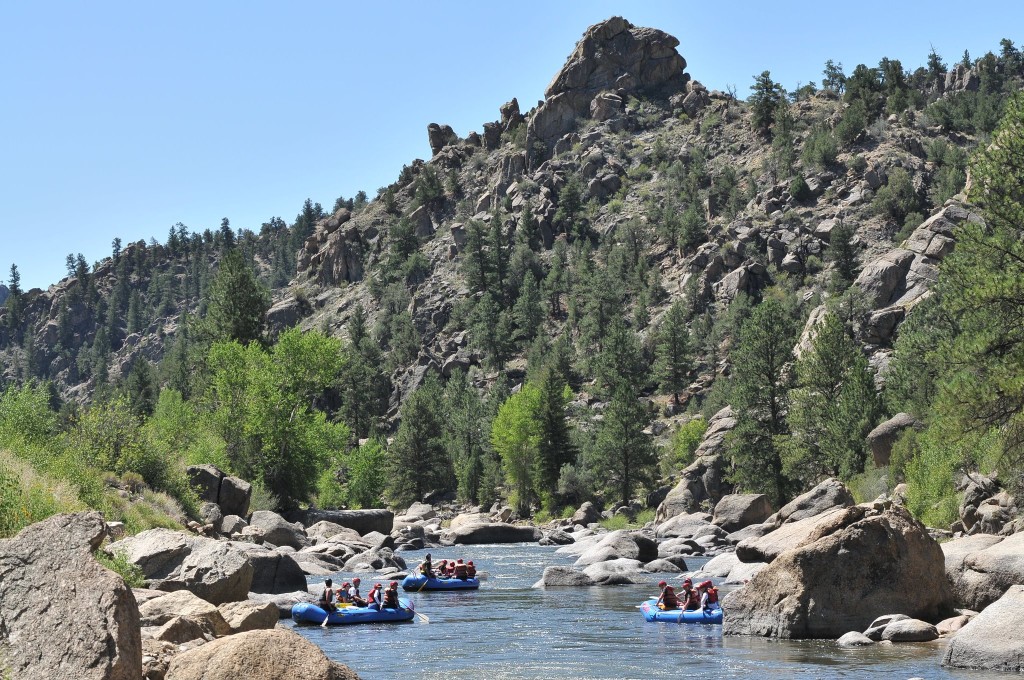 Browns Canyon National Monument
Colorado's newest National Monument, encompasses 22,000 acres that will be protected for generations to come. Browns Canyon's unique ecosystem provides fish and wildlife habitats, breathtaking views of the Arkansas River Valley, and incredible recreation opportunities. One of the best ways to experience the beauty of Browns Canyon is by raft, as most of the area is not accessible via motorized vehicles. While meandering along the Arkansas River, it is not uncommon to spot wildlife like bighorn sheep, black bears, elk, mule deer, mountain lions, eagles and falcons along the towering canyon walls.
Camping, Hiking, Off-Roading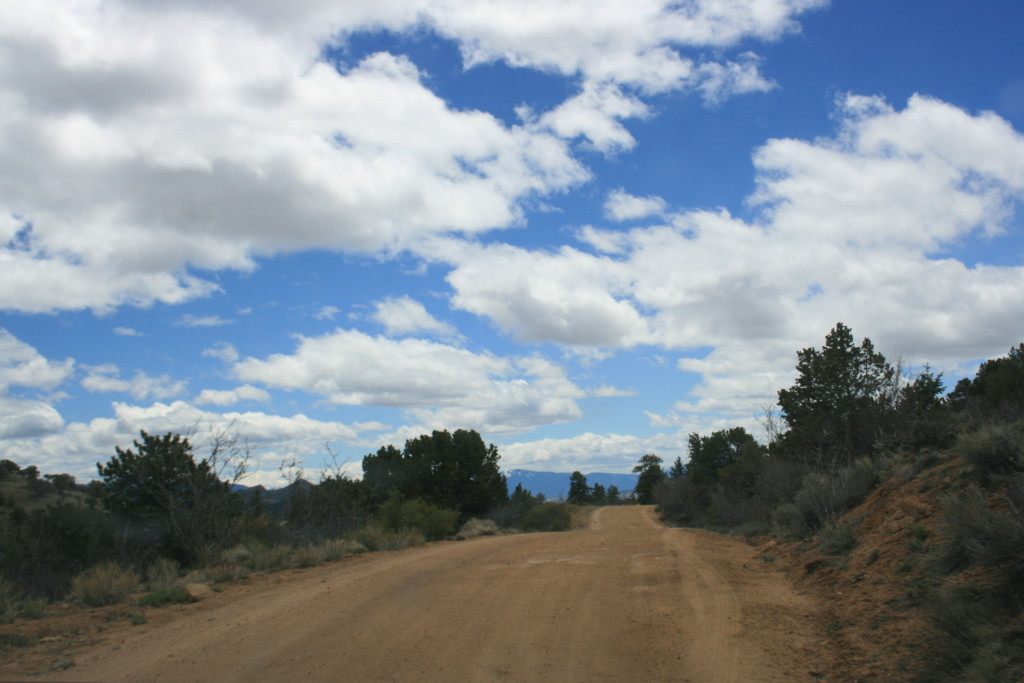 There is no shortage of recreational activities offered in Buena Vista. Although Buena Vista is one of the most popular whitewater rafting destinations in Colorado, it is also an amazing place to explore miles of off-road terrain, hiking, camping, biking and more.
Collegiate Peaks
From the moment you drive into the valley, you cannot help but notice the breathtaking Collegiate Peaks towering over the town. Mt. Princeton (14,196′), Mt. Harvard (14,423′), and Mt. Yale (14,199′ ), each at over 14,000 feet, are some of Colorado's tallest peaks, making Buena Vista a popular location for people to conquer the Sawatch Range 14'ers. Guests visiting the KODI Rafting Arkansas River outpost, will enjoy sweeping views of Mt. Yale as they gear up for their whitewater rafting adventure.
Local Restaurants & Shops
A stroll around Main Street will reveal the variety of small businesses and restaurants in Buena Vista, CO. You can't go wrong finding places to eat, shop and drink, but some of our favorites are The Asian Palate, Eddyline Brewery, the Eddyline Restaurant on South Main , Colorado Kayak Supply (CKS), and The Trailhead.